Light My Fire: Ranking Flammable Liquids
US DOT and OSHA each impose regulations that apply to flammable and/or combustible liquids. But the two agencies "regulate" these liquids differently, and for different reasons. Each views the hazards and risks of flammable liquids through the lens of a specialized mandate from Congress—OSHA to protect workers in the workplace.and US DOT to ensure safe transportation of hazardous materials (among other goals). 
In the business of moving goods from one place to another, these two mandates overlap. You can see how OSHA and DOT categorize flammable liquids below. When you recognize the similarities and consider each agency's regulatory goals, you can limit confusion about what rules apply to your activities or materials at any moment.
OSHA and US DOT both use flash point and boiling point to "rank" regulated flammable liquids.
Flash point is the lowest temperature at which an ignition source near the liquid "flashes" back and ignites the vapors. You can see details about how a flash point test works here.
Boiling point is what it sounds like; the temperature at which a liquid starts boiling. To be more specific, boiling point is the temperature at which the vapor pressure of the liquid equals the atmospheric pressure—in other words, when the liquid starts to turn to vapor of fumes.*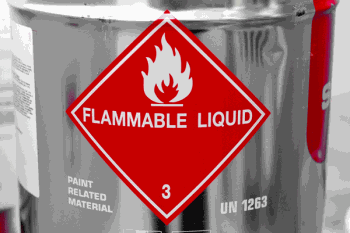 OSHA Hazard Communication for Flammable Liquids 
OSHA groups flammable liquids into four categories, with criteria laid out in Appendix B to the Hazard Communication Standard or HCS (29 CFR 1910.1200). 
The HCS exists to make sure that employees are informed and trained about the hazards of chemicals in their workplace. OSHA's categories for flammable liquids make employers and workers aware of the severity of the hazard, so that they can take appropriate steps to limit the risk of handling and working around the material.  

Table B.6.1 - Criteria for Flammable Liquids (29 CFR 1910.1200, Appendix B)
Category
Criteria

1

 

 

Flash point < 23°C (73.4°F), 
Initial boiling point ≤ 35°C (95°F).
 

2


 
Flash point < 23°C (73.4°F), 
Initial boiling point > 35°C (95°F).
 
3
 
Flash point ≥ 23°C (73.4°F) and ≤ 60°C (140°F).
 
4
 
Flash point > 60°C (140°F) and ≤ 93°C (200°F)
 
* The ASTM test method for boiling point that OSHA approves in the HCS utilizes a distillation unit to slowly heat a liquid. The initial boiling point is the temperature at which the first drop of condensate is obtained rising off of the liquid.
US DOT Hazardous Materials Regulations for Flammable Liquids
While OSHA is concerned with flammable liquids in the workplace, US DOT's mandate—through its sub-agency the Pipeline and Hazardous Materials Safety Administration (PHMSA)—kicks in when those materials enter the cycle of transportation. The categories of flammable liquids in the Hazardous Materials Regulations (HMR), called "packing groups," are used by shippers to determine the type and strength of packaging needed to contain the material. 
When a material has more than one hazard, the packing group ("PG" for short) sometimes contributes to the material's "ranking" against other hazmat when determining precedence of hazard.  

DOT/PHMSA Packing Group Assignments for Flammable Liquids (49 CFR 173.121) 
Category
Criteria
PG I
 
Initial boiling point ≤ 35°C (95°F);
 

PG II
 

 

Flash point < 23°C (73.4°F)
Initial boiling point > 35°C (95°F)
 

PG III  


 
Flash point ≥ 23°C, ≤ 60°C (≥ 73°F, ≤ 140°F)
Initial boiling point > 35°C (95°F)
 
"Combustible"        
Flash point ≥ 60°C, ≤ 93°C (≥ 140°F, ≤ 199.4°F)
 
The criteria for categories 1 through 3 are essentially identical in OSHA and DOT. regulations. DOT rounds 93° Celsius to "200°F" in its fourth category, while OSHA uses the more exact 199.4°F. That fourth category, which OSHA considers "Category 4" can be classed as "combustible liquids" in transportation (under certain conditions), qualifying for some reliefs from the HMR. (More: 3 Combustibles Shipping Examples).
Upcoming DOT Hazmat Training in Dallas, Houston, Chicago, and...
Join Lion for engaging, lively in-person training and develop the expertise you need to classify and name hazardous materials, package hazmat, mark and label packages, fill out shipping papers, and comply with DOT security plan and security training requirements for hazmat employees.  
Hazmat Ground Shipper Certification (DOT) Workshop
| | |
| --- | --- |
| Dallas, TX | March 2–3 |
| Houston, TX | March 20–21 |
| Chicago, IL | April 20–21 |
| Cincinnati, OH         | April 26–27 |
| St. Louis, MO | May 3–4 |
| Ontario, CA | May 10–11 |
| San Diego, CA | May 17–18         |
The 2023 Training Schedule of hazmat shipper workshops and webinars is available now.
Compliance Topics
Compliance Archives

This is a very informative training compared to others. It covers everything I expect to learn and even a lot of new things.
Quatama Jackson
Waste Management Professional
The instructor had knowledge of regulations and understanding of real-world situations. The presentation style was engaging and fostered a positive atmosphere for information sharing.
Linda Arlen
Safety & Environmental Compliance Officer
Lion was very responsive to my initial questions and the website was user friendly.
Michael Britt
Supply Chain Director
No comparison. Lion has the best RCRA training ever!!
Matt Sabine
Environmental Specialist
My experience with Lion training, both online and in the classroom, is that they are far better organized and provide a better sequential explanation of the material.
Robert Roose
Manager, Dangerous Goods Transportation
The instructor clearly enjoys his job and transmits that enthusiasm. He made a dry subject very interesting and fun.
Teresa Arellanes
EHS Manager
Given the choice, I would do all coursework this way. In-person courses go very fast without the opportunity to pause or repeat anything.
Ellen Pelton
Chemical Laboratory Manager
The instructor was very knowledgeable and provided pertinent information above and beyond the questions that were asked.
Johnny Barton
Logistics Coordinator
This is the best RCRA training I've experienced! I will be visiting Lion training again.
Cynthia L. Logsdon
Principal Environmental Engineer
Excellent course. Very interactive. Explanations are great whether you get the questions wrong or right.
Gregory Thompson
Environmental, Health & Safety Regional Manager
Download Our Latest Whitepaper
Ace hazmat inspections. Protect personnel. Defend against civil and criminal penalties. How? See the self-audit "best practices" for hazardous materials shippers.
By submitting your phone number, you agree to receive recurring marketing and training text messages. Consent to receive text messages is not required for any purchases. Text STOP at any time to cancel. Message and data rates may apply. View our Terms & Conditions and Privacy Policy.