How to Use US DOT's Hazmat Special Provisions
US DOT's Hazardous Materials Regulations (HMR) list more than 3,000 shipping names for regulated materials—from acetal to zirconium tetrachloride.
Each of those shipping names is assigned at least one packaging instruction (PI), indicated in Column 8 of the Hazardous Materials Table in 49 CFR 172.101. In general, packaging instructions tell shippers what types of packagings—fiberboard boxes, plastic bottles, steel drums, etc.— may be used to offer their material in a bulk, non-bulk, or limited quantity.
There are far fewer packaging instructions than there are shipping names in the regulations. As a result, hundreds of different hazardous materials may be assigned to the same PI.
This is what makes hazmat "special provisions" essential, and why most hazardous materials are associated with at least one special provision. Special provisions provide additional details—and often extra restrictions—that shippers must comply with to ship a specific hazardous material.
Where to Find Hazmat Special Provisions
Column 7 of the 172.101 Hazmat Table lists the special provisions that apply to an individual proper shipping name. Each special provision is indicated using a numeric or alphanumeric code. All special provisions are listed by their code in 49 CFR 172.102.
To comply with the regulations and safely ship any hazardous material, the shipper must use both the packaging instruction and all applicable special provisions to prepare the shipment.


Excerpt from Lion's 49 CFR Hazardous Materials Regulations (HMR) © 
Guide to Hazmat Special Provision Codes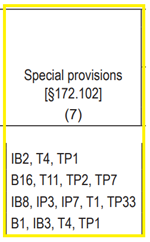 How does the shipper know which special provisions apply to their hazmat shipment? Special provisions are written in "code." When you know the code, it's easier to identify the special provisions that affect your shipment.
Numeric Codes. The most broadly applicable special provision codes are "numeric"—they contain numbers only (i.e., "16"). These codes apply to all modes of transportation and may apply to bulk or non-bulk packagings. In other words, these numbers-only codes can apply to any shipment of the hazardous material. 
Alphanumeric Codes. All other special provisions codes are alphanumeric—they consist of a letter followed by a number or numbers. The letter(s) contained in a special provision code tells us which mode of transportation or type of packaging the provision applies to.
Mode of transportation:
"A" codes apply only to air transportation
"R" codes apply only to rail transportation
"W" codes apply only to transportation by water
Type of packaging:
"N" codes apply only to non-bulk packaging requirements
"B" codes apply to only to bulk packaging requirements (except IBCs and tanks)
"IB" and "IP" codes apply only to transportation in Intermediate Bulk Containers (IBCs)
"T" or "TP" codes apply only to transportation in portable tanks
(For more details, see 49 CFR 172.102(b))
Why Hazmat Special Provisions are Essential 
Here's is one (very simplified) example of what makes special provisions so important:
One of the packaging instructions used to prepare non-bulk shipments of sulfuric acid (UN 1831) states that authorized packagings include steel drums, aluminum drums, and many others.
However, sulfuric acid reacts with aluminum in a way that has potential to create a hazardous situation. For this reason, sulfuric acid is also assigned special provision N34. Special provision N34 tells the shipper that this material may not come in contact with aluminum packagings.
So, even though the packaging instruction lists aluminum as a potential choice—the special provision tells the shipper that, for this specific material, aluminum is not authorized.
Overlooking a special provision that applies to a material or package can lead to an accidental release in transportation, a violent chemical reaction, or worse. Hazardous materials shippers must identify and properly apply these provisions to ensure every shipment reaches its destination safely.
Hazmat Shipper Certification Training
Locating and applying applicable special provisions is one of the many crucial skills attendees develop at Lion's hazmat shipper workshops. The 2023 schedule of in-person training is available now for open enrollment.
For live, instructor-led webinar training, Lion will present the Hazmat Ground Shipper Certification (DOT) Webinar two more times in 2022.
Or train at your own pace with interactive online courses for ground, air, and vessel shippers. Browse all 49 CFR, IATA DGR, and IMDG Code courses at Lion.com/Hazmat.
Recent Posts
Compliance Topics
Compliance Archives

The instructor made the class enjoyable. He presented in a very knowledgeable, personable manner. Best class I've ever attended. Will take one again.
John Nekoloff
Environmental Compliance Manager
You blew the doors off the competition!
Stephen Bieschke
Facilities Manager
Lion's training was by far the best online RCRA training I've ever taken. It was challenging and the layout was great!
Paul Harbison
Hazardous Waste Professional
I tried other environmental training providers, but they were all sub-standard compared to Lion. I will not stray from Lion again!
Sara Sills
Environmental Specialist
As always, Lion never disappoints
Paul Resley
Environmental Coordinator
Attending Lion Technology classes should be mandatory for every facility that ships or stores hazmat.
Genell Drake
Outbound Lead
The instructor made the class very enjoyable and catered to the needs of our group.
The training was impressive. I am not a fan of online training but this was put together very well. I would recommend Lion to others.
Donnie James
Quality Manager
Convenient; I can train when I want, where I want.
Barry Cook
Hazmat Shipping Professional
This was the 1st instructor that has made the topic actually enjoyable and easy to follow and understand. Far better than the "other" training providers our company has attended!
Lori Hardy
Process & Resource Administrator
Download Our Latest Whitepaper
Ace hazmat inspections. Protect personnel. Defend against civil and criminal penalties. How? See the self-audit "best practices" for hazardous materials shippers.
By submitting your phone number, you agree to receive recurring marketing and training text messages. Consent to receive text messages is not required for any purchases. Text STOP at any time to cancel. Message and data rates may apply. View our Terms & Conditions and Privacy Policy.