California Hazmat and Hazardous Waste Training
Trusted hazmat and RCRA/Title 22 training for EH&S leaders in California and their employees. Attend an upcoming workshop in person, learn online at your own pace, or join the next live webinar that fits your schedule.
California Hazardous Waste Management
September 11–12
---
Hazmat Ground Shipper Certification (DOT)
September 13–14
---
Hazmat Air Shipper Certification (IATA)
September 15

Los Angeles
Holiday Inn Santa Ana-Orange County Airport
2726 South Grand Avenue
Santa Ana, CA 92705
California Hazardous Waste Management
September 18–19
---
Hazmat Ground Shipper Certification (DOT)
September 20–21

San José
Sheraton San Jose Hotel
1801 Barber Lane
Milpitas, CA 95035
Hazmat Shipper Certification Training (DOT, IATA, & IMDG)
These courses provide required hazmat training to help shippers in California satisfy DOT, IATA, and IMDG mandates. US DOT requires training every three years for all "hazmat employees." The IATA DGR requires training every 24 months for employees who prepare hazmat/DG for air transport.
California Hazardous Waste Management Training
Detailed, in-depth training to identify and manage hazardous waste in compliance with California state laws and regulations, as well as all applicable Federal RCRA standards for generator sites.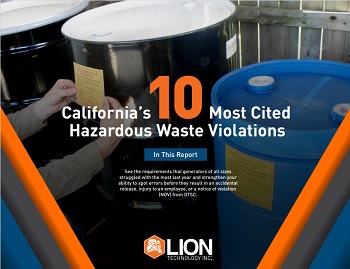 Free Guide: Top 10 Most Cited Hazardous Waste Violations in California
Pick up new insights to help you identify and prevent the 10 most cited hazardous waste management violations in California.

We have a very busy work schedule and using Lion enables us to take the course at our own time. It makes it easy for me to schedule my employees' training.
Timothy Mertes
Hazmat Shipping Professional
Lion was very extensive. There was a lot of things that were covered that were actually pertaining to what I do and work with. Great Job. I will be coming back in three years!
Tony Petrik
Hazmat Shipping Professional
Much better than my previous class with another company. The Lion instructor made sense, kept me awake and made me laugh!
Marti Severs
Enterprise Safety Manager
Lion's information is very thorough and accurate. Presenter was very good.
Melissa Little
Regulatory Manager
Lion is easily and consistently the best option for compliance training. I've learned new information from every instructor I've had.
Rachel Mathis
EHS Specialist
Lion does a great job summarizing and communicating complicated EH&S-related regulations.
Michele Irmen
Sr. Environmental Engineer
The workshop covered a lot of information without being too overwhelming. Lion is much better, more comprehensive than other training providers.
George Alva
Manufacturing Manager
The price was reasonable, the time to complete the course was manageable, and the flexibility the online training allowed made it easy to complete.
Felicia Rutledge
Hazmat Shipping Professional
Very witty instructor, made the long times sitting bearable. One of the few training courses I can say I actually enjoyed.
John Hutchinson
Senior EHS Engineer
I like the consistency of Lion workshops. The materials are well put together and instructors are top notch!
Kevin Pylka
Permitting, Compliance & Environmental Manager
Download Our Latest Whitepaper
Look beyond the annual "Top 10 List" to see specifics about the most cited OSHA health & safety Standards and the individual regulations that tripped up employers the most last year. 
By submitting your phone number, you agree to receive recurring marketing and training text messages. Consent to receive text messages is not required for any purchases. Text STOP at any time to cancel. Message and data rates may apply. View our Terms & Conditions and Privacy Policy.