EPA Enforcement Roundup: Week of 7/31
US businesses are subject to complex, overlapping environmental regulations related to air emissions, discharges to water, hazardous waste management and disposal, oil spills, chemical management, and more. Failure to comply with all applicable US EPA requirements can result in future liability and civil penalties as high as $100,000 per day, per violation.
The EPA Enforcement Roundup highlights enforcement actions that offer insight into how and why US EPA and State partners assess penalties for noncompliance for environmental regulations.
All violations or claims discussed below are alleged only unless we say otherwise, and we withhold the names of organizations and individuals to protect their privacy.
Your EPA Enforcement Roundup for this week:
A biotechnology company agrees to a $170,000 penalty for alleged Clean Air Act violations in Cambria, Wisconsin.
US EPA alleges that this facility violated its 2014 and 2018 permits by failing to:
Consistently direct emissions from the fermentation process to the ethanol recovery system.
Develop a sufficient malfunction prevention and abatement plan.
In addition to paying penalties, the company agreed to conduct regular monitoring; install equipment to prevent excess fermentation emissions; improve recordkeeping, inspection, and corrective action; update and submit a modified malfunction prevention and abatement plan; and more to come into compliance in the next year.
Alleged hazardous waste management violations to cost a polymer manufacturer in California $57,472.
The manufacturer's California facility—a large quantity generator of hazardous waste—allegedly failed to comply with air emissions standards for equipment leaks and air emission control standards for tanks in accordance with the Resource Conservation and Recovery Act (RCRA).
The facility specifically manufactures polymers "for academic institutions, biotech companies, and large pharmaceutical companies." EPA says the company has certified that it is now in compliance.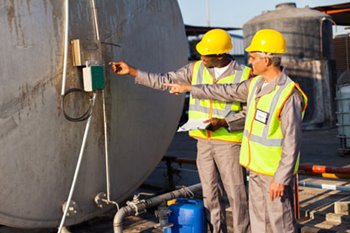 Another oil and gas/petroleum company in the Permian Basin settles with US EPA—this time for $1.3M.
As a result of US EPA's helicopter flyover of the West Texas Permian Basin, the company will correct alleged Clean Air Act violations at a baker's dozen of its facilities. These actions will reduce volatile organic compound (VOC) emissions by an estimated 1.2 million pounds and reduce climate-impacting methane emissions by an estimated 4.6 million pounds.
EPA claims to have found violating hydrocarbon emissions from tanks, flares, and combustors using an infrared camera on a helicopter, and the company must pay $1,285,000 as part of the settlement.
Complete Environmental Regulations Training
Want a clearer idea of how major EPA air, water, and chemical programs all fit together to affect your site's activities? Join in on the next Complete Environmental Regulations Webinar on September 7–8 at Lion.com.
EH&S professionals who attend can identify the regulations that apply to their facility and locate key requirements to achieve compliance with the Clean Air and Clean Water Acts to EPCRA, TSCA, Superfund, and more. Prefer to train at your own pace? Try the interactive online course.
Tags: Clean Air Act, EPA, EPA Enforcement Roundup, hazardous waste, RCRA
Compliance Topics
Compliance Archives

Much better than my previous class with another company. The Lion instructor made sense, kept me awake and made me laugh!
Marti Severs
Enterprise Safety Manager
Lion Technology workshops are amazing!! You always learn so much, and the instructors are fantastic.
Dorothy Rurak
Environmental Specialist
As always, Lion never disappoints
Paul Resley
Environmental Coordinator
The instructor was very very informative, helpful, understandable and pleasant. This course answered many questions I had, being new to this industry.
Frances Mona
Shipping Manager
Amazing instructor; real-life examples. Lion training gets better every year!
Frank Papandrea
Environmental Manager
I was recently offered an opportunity to take my training through another company, but I politely declined. I only attend Lion Technology workshops.
Stephanie Gilliam
Material Production/Logistics Manager
The price was reasonable, the time to complete the course was manageable, and the flexibility the online training allowed made it easy to complete.
Felicia Rutledge
Hazmat Shipping Professional
The online course was well thought out and organized, with good interaction between the student and the course.
Larry Ybarra
Material Release Agent
The instructor does a great job at presenting material in an approachable way. I have been able to save my company about $30,000 in the last year with what I have learned from Lion!
Curtis Ahonen
EHS&S Manager
This training broke down the regulations in an easy-to-understand manner and made them less overwhelming. I now feel I have the knowledge to make more informed decisions.
Amanda Oswald
Shipping Professional
Download Our Latest Whitepaper
Shipping papers are a crucial part of safely shipping hazardous materials. See the top 5 mistakes shippers make on shipping papers, and how to avoid them.
By submitting your phone number, you agree to receive recurring marketing and training text messages. Consent to receive text messages is not required for any purchases. Text STOP at any time to cancel. Message and data rates may apply. View our Terms & Conditions and Privacy Policy.