Did Your EX Approval Just Get X'd?
PHMSA announced last week that the agency has terminated a long list of explosives (EX) approvals held by dozens of US shippers. These EX approvals were terminated because shippers failed to provide evidence of compliance with a recent regulation change related to UN testing for specific 1.4S explosives.
In May of 2020, PHMSA published Final Rule HM-215O to harmonize the Hazardous Materials Regulations (HMR) with international requirements like the UN Model Regulations, ICAO Technical Instructions (TI), IATA Dangerous Goods Regulations (DGR), and others.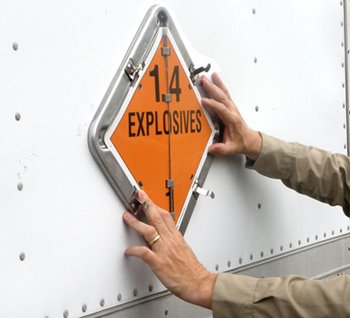 Rule HM-215O added to a requirement in Special Provision 347, impacting Division 1.4S hazardous materials shipped under these four UN numbers: 
UN 0349 (Articles, explosive, n.o.s.)
UN 0367 (Fuzes, detonating) 
UN 0384 (Components, explosive train, n.o.s.)
UN 0481 (Substances, explosive, n.o.s.) 
These UN ID numbers now must pass UN 6(d) testing, the "Unconfined Package Test." Performance of this test verifies that any affects of accidental activation during transport will be confined to inside the package. 
PHMSA notified EX approval holders of the new requirement, and that their approvals would be terminated if they failed to provide evidence of successful 6(d) testing, about two years ago.  
Upcoming In Person DOT Hazmat Training 
Join Lion for engaging, lively in-person training and develop the expertise you need to classify and name hazardous materials, package hazmat, mark and label packages, fill out shipping papers, and comply with DOT security plan and security training requirements for hazmat employees.  
Hazmat Ground Shipper Certification (DOT) Workshop
| | |
| --- | --- |
| Nashville, TN | July 12–13 |
| Dallas, TX | July 24–25 |
| Orlando, FL | August 2–3 |
| Houston, TX | August 15–16 |
| Los Angeles, CA | September 13–14 |
| San Jose, CA | September 20–21 |
---
Browse all in person and online DOT, IATA, and IMDG course options at Lion.com/Hazmat.

Tags: 49 CFR, explosives, hazmat shipping
Compliance Topics
Compliance Archives

The instructor made the class enjoyable. He presented in a very knowledgeable, personable manner. Best class I've ever attended. Will take one again.
John Nekoloff
Environmental Compliance Manager
I like Lion's workshops the best because they really dig into the information you need to have when you leave the workshop.
Tom Bush, Jr.
EHS Manager
The instructor was energetic and made learning fun compared to dry instructors from other training providers.
Andy D'Amato
International Trade Compliance Manager
The instructor was very dedicated to providing a quality experience. She did her best to make sure students were really comprehending the information.
Stephanie Venn
Inventory Control Specialist
The online course was well thought out and organized, with good interaction between the student and the course.
Larry Ybarra
Material Release Agent
I can take what I learned in this workshop and apply it to everyday work and relate it to my activities.
Shane Hersh
Materials Handler
More thorough than a class I attended last year through another company.
Troy Yonkers
HSES Representative
The instructor was very knowledgeable and provided pertinent information above and beyond the questions that were asked.
Johnny Barton
Logistics Coordinator
Energetic/enthusiastic! Made training enjoyable, understandable and fun!
Amanda Walsh
Hazardous Waste Professional
I had a positive experience utilizing this educational program. It was very informative, convenient, and rewarding from a career perspective.
John Gratacos
Logistics Manager
Download Our Latest Whitepaper
Ace hazmat inspections. Protect personnel. Defend against civil and criminal penalties. How? See the self-audit "best practices" for hazardous materials shippers.
By submitting your phone number, you agree to receive recurring marketing and training text messages. Consent to receive text messages is not required for any purchases. Text STOP at any time to cancel. Message and data rates may apply. View our Terms & Conditions and Privacy Policy.